Plumbing Pipes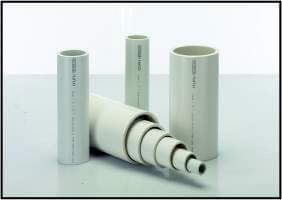 Key Features

» Easy installation, leak proof joints welded by solvent cement.
» No Scaling or Deposition due to smooth surface.
» Longer service life and economical- excellent replacement to GI Pipe
system.
» Non Corrosive.
» Excellent tensile and impact strength.
» Complete range of pipes as per ASTM D 1785, fittings as per ASTM D 2467.
» UV Stabilized hence ideal for outdoor application.


Applications

» High pressure water distribution plumbing in
Residential, Commercial and Industrial Buildings.
» Available Sizes: 15 mm to 150 mm ID.